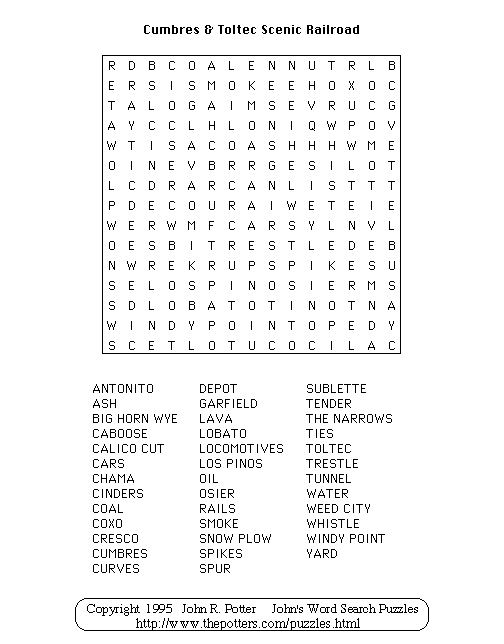 The Cumbres & Toltec Scenic Railroad runs from Chama in northern New Mexico to Antonito in southern Colorado. It passes through Lobato, Cresco, Cumbres, Los Pinos, Osier, Toltec, Sublette, Big Horn, and Lava. A visit to the roundhouse, coaling tower, and other railroad facilities in Chama is a must. The water tank at the edge of the yard is believed to be the only double-spouted tank still in use. Most of the motive power is restored K-series Mikados, built by the Baldwin Locomotive Works in the early 1900's, that originally came from the Denver & Rio Grande Western Railroad.
Round trips leaving either Chama or Antonito are available but I strongly recommend a through trip. The round trips are cheaper and take slightly less time, however, you miss half of the spectacular scenery. It's a wonderful ride and I highly recommend it. Call (505) 756-2151 or (719) 376-5483 for reservations.
Please note that I am in no way connected to the Cumbres & Toltec Scenic Railroad or anything else having to do with it. I just never met a stream train I didn't like and this is one of my favorites.
This page has been accessed
times since moving to this site April 24, 1998.